External High Power E-magnetic Air Pump
31406575-aco-208-x-p1-220v-240v
Please read it: This is our handpicked product, it will be shipped from our overseas warehouse to your door directly, it usually takes from 7-20 days for shipping time.
We don't thank you enough for being patient with us ❤

Water Movement To Keep Them Healthy

!

You might just want to have bubbles in your tank, they can add extra aesthetic qualities. And they can be cool to look at! What's best to remember, is that they can't do any harm and fish tend to enjoy bubbles. They love to play with them: riding the bubbles up, and then heading back down and do it again – it's almost like a rollercoaster for them. Some even use them to massage themselves. Having an air pump can only benefit your fish and aquarium!

Model: Hailea ACO-208
Power: 25W
Voltage: 220V-240V
Frequency: 50Hz
Pressure: MIN. 0.015MPa
Output: 45L/min 6 outlets
Noise: 50DB MAX
Size: 142MM*80MM*78MM
Model: Hailea ACO-308
Power: 30W
Voltage: 220V-240V
Frequency: 50Hz
Pressure: MIN. 0.025MPa
Output: 55L/min 6 outlets
Noise: 60DB MAX
Model: Hailea ACO-318
Power: 35W or 45W, default is 45W.
Voltage: 220V-240V
Frequency: 50Hz
Pressure: More than 0.025MPa
Output: 70L/min 6 outlets
Noise: 60DB MAX
Sie: 182MM*95MM*116MM
These features create bubbles down to the extra surface movement. The more surface movement you have, the more contact your water has with the air. This results in more oxygen getting into your tank. Water movement is vital to keeping a healthy aquarium. There are many unseen processes that occur as the water in your tank circulates.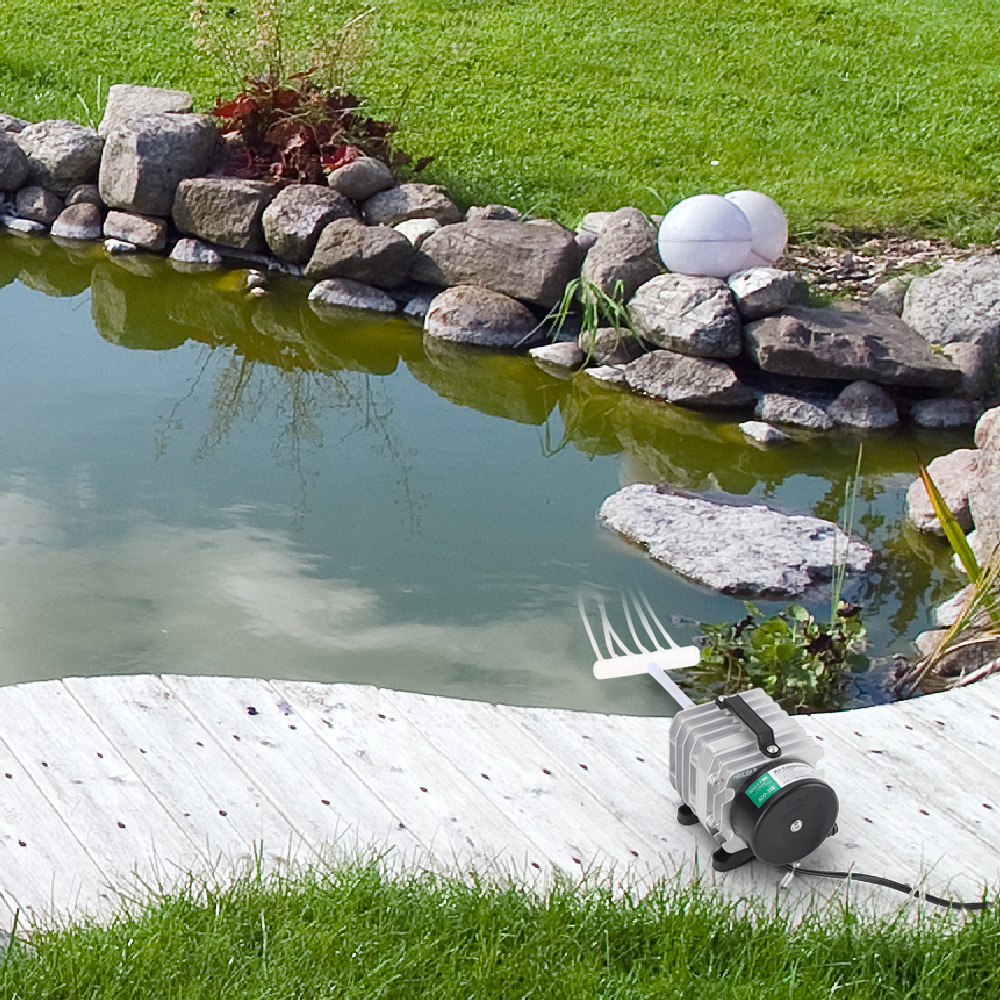 Important Reminder:
We are experiencing a high volume of orders, shipments may be delayed by a few days. Our processing time is 1-3 days and may extend to 6 days during peak times.
Our shipping time is between 7-20 business days. Orders are not shipped or delivered on weekends or holidays. Please allow additional days in transit for delivery. If there will be a significant delay in the shipment of your order, we will contact you via email. 

Your patience and understanding are very much appreciated. Thank you!
I took for aeration of water from the well-there is too much iron in the water, it is necessary to oxidize. After the first two hours heated and turned off. Cooling an hour, turned on again. Next, it has been working for 6 hours. Very hot. At a depth of 1 meter works well, but it is heard by sound, which is difficult. Complete tubes of food-grade silicone, which is very pleasant. It came in two weeks at Peter.
The product is good, The prices at the moment were the best
External High Power E-magnetic Air Pump
External High Power E-magnetic Air Pump