Aquarium Lily Water Pipe for Plant Filter
Please read it: This is our handpicked product, it will be shipped from our overseas warehouse to your door directly, it usually takes from 7-20 days for shipping time.
We don't thank you enough for being patient with us ❤

No More Ugly Plastic Hoses and Filter Intakes Inside Your Tank

!

This Lily Pipe is beautifully constructed and is made out of glass, it blends in with the aquarium, allowing you to recreate a perfectly natural-looking environment, without the sight of ugly hosing in your tank and when this pipe placed underwater, it becomes almost invisible!

It also has a second benefit, they can be used to control the pressure of the outflow on your filter. It's delicate and if you drop one on the floor, it will break. 

As water flows out the pipe and out the opening, it will churn the surface water, which helps with a gas exchange – Oxygen (O2) entering the water and Carbon Dioxide (CO2) leaving it.

This pipe is popular with many hobbyists who want the focus on their tank and environment, not ugly aquarium equipment for their pet fish!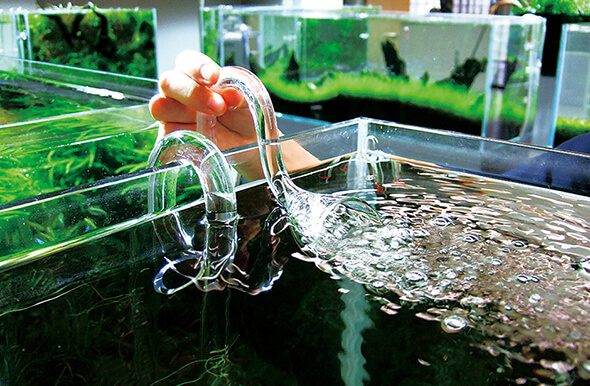 Sliding Lily Pipe Outflow above the waterline allows it to also serve as an aerator which eliminates oily surface film.
Also, you can prevent deficiency of oxygen during the night.
Inflow Pipe
Glass Inflows are designed to transport the water from the aquarium to the external canister filter.
This simple design glass pipe has suction slits. For use with a frame-less aquarium tank.
Outflow Pipe
This outflow pipe bringing clean water from the filter back to the aquarium.
Moderate water circulation evenly within the aquarium is essential to maintain the water quality and prevent algae appearance.
Use a canister filter.
13mm fits 12/16mm hose. Fit for fish tank 30-90cm
17mm fits 16/22mm hose. Fit for fish tank 100-150cm
Important Reminder:
We are experiencing a high volume of orders, shipments may be delayed by a few days. Our processing time is 1-3 days and may extend to 6 days during peak times.
Our shipping time is between 7-20 business days. Orders are not shipped or delivered on weekends or holidays. Please allow additional days in transit for delivery. If there will be a significant delay in the shipment of your order, we will contact you via email. 

Your patience and understanding are very much appreciated. Thank you!