Skimmer Glass Lily Pipe Aquarium Filter
Please read it: This is our handpicked product, it will be shipped from our overseas warehouse to your door directly, it usually takes from 7-20 days for shipping time.
We can't thank you enough for being patient with us ❤

Fish are adorable and make people happy!
This simple design glass pipe has suction slits. For use with a frame-less aquarium tank. Due to its slit form, it has the advantage of not sucking in the withered leaves easily. This improves water circulation. But please make sure to remove the leaves stuck on the suction slits.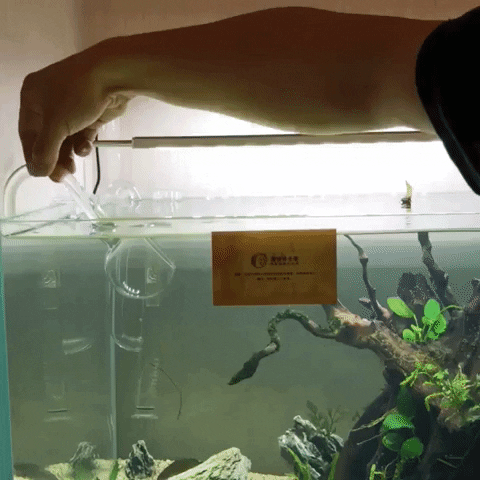 The outflow pipe bringing clean water from the filter back to the aquarium.

Moderate water circulation evenly within the aquarium is essential to maintain the water quality and prevent algae appearance. However, the excessively strong outflow of the power filter works negatively, hindering the healthy growth of aquatic plants. Lily Pipe Outflow is hydro-dynamically designed to create a moderate circulation of water within the aquarium ideal for the growth of aquatic plants.
Usage:

Sliding Lily Pipe Outflow above the waterline allows it to also serve as an aerator which eliminates oily surface film.

Also you can prevent deficiency of oxygen during the night.

Important Reminder:
We are experiencing a high volume of orders, shipments may be delayed by a few days. Our processing time is 1-3 days and may extend to 6 days during peak times.
Our shipping time is between 7-20 business days. Orders are not shipped or delivered on weekends or holidays. Please allow additional days in transit for delivery. If there will be a significant delay in the shipment of your order, we will contact you via email. 

Your patience and understanding are very much appreciated. Thank you!
Very impressed
I was a not expecting such a big improvement to flow. I had do aqua violet glass outflow. The lily pipe is such an improvement. The skimmer works perfectly. Very clear surface. Such a good price point - I was a little skeptical if it would be good enough quality. Close up: It doesn't look quite as well made as a more expensive brand. But once it's on you don't notice at all. I would buy these again.
Great product worth the money
Excellent product. Works great.
Super quality. Just as described from the seller. Quick delivery took only 15 days to my doorstep in Perth. Will recommend seller and product. Safe package