Monte Carlo -Micranthemum
Monte Carlo -Micranthemum
Common Name: Monte Carlo
Micranthemum
Micranthemum 'Monte Carlo" is a low growing aquatic plant that originates from New Zealand.  It is a perfect foreground plant that if given sufficient lighting and nutrients can grow into a thick carpet of green foliage.  The leaves are small and round with a beautiful bright green colouration that can nicely offset any neutral-toned substrate.  This plant is very similar to Hemianthus callitrichoides (HC/Dwarf Baby Tears) but the leaves are larger and in our experience, it's easier to grow.  When hobbyist are having trouble growing HC, we recommend giving Monte Carlo a try.
High lighting and Co2 injection are necessary to keep this plant low growing.  Vertical growing thin stalks are an indication of lack of lighting while yellowing leaves can mean nutrition deficiency.  Thin leaves can also hint at a lack of Co2.  This plant can grow quickly and require regular trimming when kept under proper conditions. 
This plant can grow submerged or emersed in dry start aquariums and Wabi Kusa.  Because this plant is small with tiny roots, it can prove difficult to keep planted into the substrate.  In this case, a dry start can help by allowing time for the roots to anchor into the substrate before flooding the tank.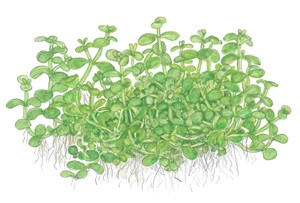 Plant info
Type:
Carpeting
Origin:
South America
Country or continent where a plant is the most common. Cultivars arise or are bred in cultivation.
Growth rate:
Medium
The growth rate of the plant compared to other aquatic plants.
Height:
3 - 5+
Average height (cm) of the plant after two months in the tank.
Light demand:
Medium
The average or medium-light demand of an aquarium plant is 0,5 W/L.
CO2 :
Medium
A medium need in CO2 is 6-14 mg/L. The high demand for CO2 is approx. 15-25 mg/L.
Priced per 5x5 cm thick Pot 
Note:
We can't ship Livestock and Live Plants to WA and TAS due to State Restrictions. Kindly check out our DOA and other policies before purchase!!
Other things to consider before placing an order:

* Check to see if your tank has enough space.
* Ensure your tank is fully cycled.
* Ensure your new livestock is compatible tank mates for any other fish you currently have (in terms of habitat, species, requirements, temperament, and size)
* Ensure that your water parameters, habitat and temperature are suitable for the species you want to introduce.
* Do not stock your tank too quickly, or suddenly a large influx of fish can unbalance your water parameters that will affect the water quality.
* Do not feed your new fish for 24hrs. They need time to settle in and feel at home. Feeding them too quickly puts their health at risk, and it can even affect your water quality. If you have existing fish in your aquarium, feeding them before releasing the new fish is a good idea.
* Don't be alarmed if, upon arrival, your fish, shrimp or snail look pale or lethargic. This is normal behaviour while in transit, and they should return to full colour and vibrancy after settling into their new home for a few days.


Also, be aware that livestock often gets stress and lose their colours after the long travel to you, this often happened to most livestock ( shrimps, guppies, plecos, and so on, kindly make sure you have the right set up, the aquarium must be fully cycled with the ideal parameters. Fishes and shrimps will often take from 3-7 days to fully adapt to the new home. If you have any concerns with your set up kindly talk to us or check out some online tutorials before purchase.

At Micro Aquatic shop, we strive to provide excellent service and high-quality products, any concerns kindly contact us asap and often we will get back to you in a few hours during working hours. We do not accept claims when the livestock entered your aquarium as there might be so many factors that can affect the wellbeing of the livestock, on our part we can guarantee that we are always sending out healthy and quality fishes, plants and shrimps to you.
There is absolutely ZERO Risk in buying from our trusted store as we 
use Encrypted SSL certificates for 100% Security so you don't have to worry about your security! 
Pretty Plant.
Arrived looking good, can't wait for it to carpet my tank